Birkahus is a place for people with special needs​​​​​​​​​​​​​​. It was designed to on one hand fit into the ensemble of existing buildings, and on the other hand to provide a diverse and comfortable environment for its inhabitants.
Birkahus ist ein Ort für Menschen mit besonderen Bedürfnissen. Es wurde entworfen,

um

einerseits in das Ensemble bestehender Gebäude zu passen und andererseits seinen Bewohnern ein vielfältiges und komfortables Umfeld zu bieten. 
The three floors are conceived as tiny villages for their inhabitants. Every inhabitant has his own "apartment" with a balcony, bathroom and sleeping area. In front of each apartment, there is a letterbox and a small entrance with a light.
Die drei Stockwerke sind als winzige Dörfer für ihre Bewohner konzipiert. Jeder Einwohner hat seine eigene "Wohnung" mit Balkon, Bad und Schlafbereich. Vor jeder Wohnung befindet sich ein Briefkasten und ein kleiner Eingang mit Licht.
They are connected with one another as well as to other programs such as offices, kitchen, dining room and living room through an interior "street". The apartments are characterized by a distinct color that is both visible from the outside street as well as from the inside street.
Sie sind miteinander sowie mit anderen Programmen wie Büros, Küche, Esszimmer und Wohnzimmer über eine innere "Straße" verbunden. Die Apartments zeichnen sich durch eine ausgeprägte Farbe aus, die sowohl von der Außenstraße als auch von der Innenstraße aus sichtbar ist.
Structurally, the building is modular. Each function is housed in a different wooden box, which were stacked on top of each other in the building process. Only the stairway is built from concrete and serves as connection to the existing buildings on the campus.
Strukturell ist das Gebäude modular aufgebaut. Jede Funktion ist in einer anderen Holzkiste untergebracht, die beim Bauprozess übereinander gestapelt wurde. Nur die Treppe ist aus Beton gebaut und dient als Verbindung zu den bestehenden Gebäuden auf dem Campus.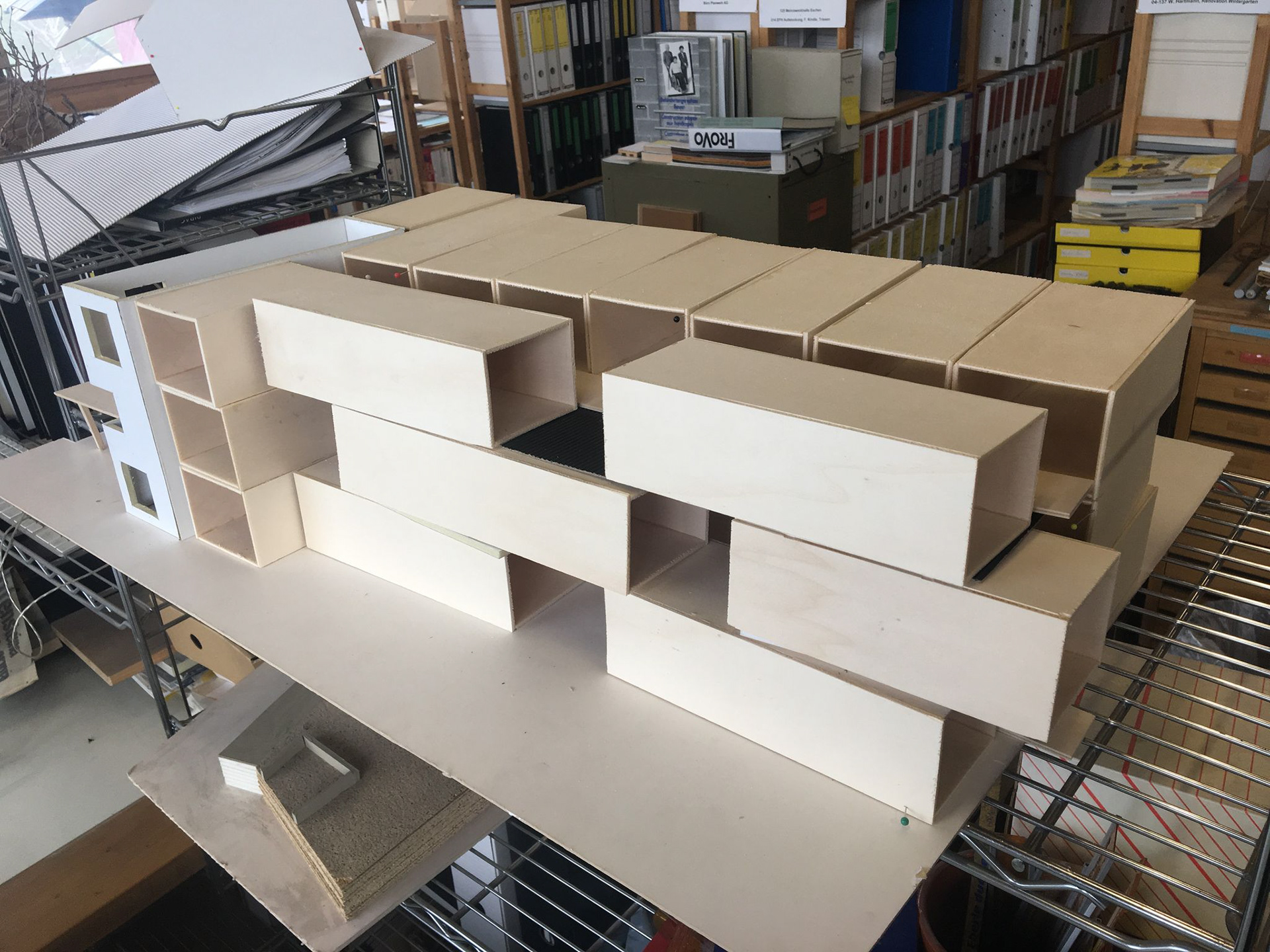 Birkahus is part of a larger complex. Originally built as a farm on the edge of the village, it now consists of multiple programs for people with special needs who work and in some instances live there. There is a shop in which vegetables and seedlings are sold, a pond for recreation, and a café for the staff.
Birkahus ist Teil eines größeren Komplexes. Ursprünglich als Bauernhof am Rande des Dorfes erbaut, besteht es jetzt aus mehreren Programmen für Menschen mit besonderen Bedürfnissen, die dort arbeiten und in einigen Fällen leben. Es gibt ein Geschäft, in dem Gemüse und Setzlinge verkauft werden, einen Teich zur Erholung und ein Café für das Personal.
Hansjörg Hilt

i and

Luis Hilt

i have been developing the farm in terms of the buildings and landscape surrounding it into both a good environment for inhabitants and staff, as well as part of the village Mauren, with the shop as an interface and meeting point between Birkahof and the villagers.
Hansjörg Hilti und Luis Hilti haben den Hof in Bezug auf die Gebäude und die ihn umgebende Landschaft zu einem guten Umfeld für Einwohner und Mitarbeiter sowie zu einem Teil des Dorfes Mauren ausgebaut, wobei der Laden als Schnittstelle und Treffpunkt zwischen Birkahof und Birkahof dient die Dorfbewohner.